A quiet hamlet that lies at the centre of the beautiful St Brides Bay coastline, with undulating cliffs and sandy beaches, completely unspoilt but within easy reach of Haverfordwest, the "county town" and many nearby villages.
The whole coastline is part of the Pembrokeshire Coast National Park. An area of outstanding beauty with a wide variety of natural amenities available to the holidaymaker including the coast path (over 160 miles) that passes through the haven, an abundance of wildlife, sea birds, wild flowers and beaches safe for swimming, surfing, boating and fishing.
Within a short distance lie Newgale, well known for surf along three miles of golden sands, St Davids, the smallest cathedral in Great Britian; the coastal villages of Little Haven, Broad Haven and Solva with a particularly pretty natural harbour.
Interesting places to visit include the Preseli Hills, Cleddau Estuary, Woollen Mills, craft shops, potteries and a popular boat trip from Martins Haven to Skomer Island bird sanctuary. Visitors expecting the noise and crowns of the large resorts will be disappointed; the area relies upon its own natural beauty and appreciative holidaymakers return year after year.

Local Pembrokeshire Sports
Golf - Within Pembrokeshire there are 6 golf courses.
Fishing - Fishermen are well cared for, with fishing at Bosherston Ponds, Large Trout at the Llys -Yfran country park and many other venues, whilst the sea offers Bass and Flat fish (off the beaches) and Bass, Conga, Tope, Dogfish and Pollock (off the rocks).
In the summer boat fishing is manly for Mackerel and Pollock, while in the winter, Cod ,Herring and Whiting are common.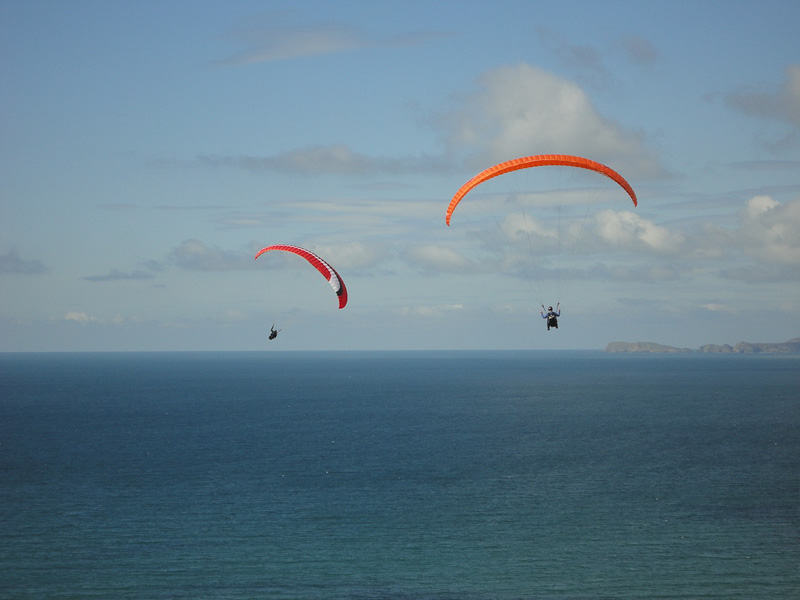 Wind-surfing, Surfing, Water-skiing - Just to the south of Nolton Haven, Broad haven offers a windsurfing school while Newgale, famous for its surf offers surfboards, skis, surf canoes and wet suits for hire.
Swimming, Boating, Sunbathing, and Sailing - Nolton Haven has its own sandy beach with slipway, ideal for launching small boats and sailing dingys. Low tide provides an excellent opportunity to explore exposed rock pools.
Walking - The walking around Nolton Haven is first class, the Pembrokeshire coast path passes through. For those who prefer not to cook the village has its own pub/restaurant on the sea front.